Instructions & Specifications
Your iheadbones ihb 201 and ihb 600 / 650 acoustic devices are powered by an amplifier, it is important to
have this amplifier fully charged before you use your iheadbones.
Charge the amplifier by connecting the USB cable supplied to any USB port on your computer or to an AC adaptor accessory. The LED light on the amplifier will be green while it is charging, unlit when charging is complete.
When not using your iheadbones, keep the switch on the amplifier in the OFF position to conserve battery life. The amplifier will typically provide 10+ hours of use on a single charge.
Plug one end of the audio cable into the amplifier port marked INPUT and the other end into your audio device. SEE ILLUSTRATION (A).
Connect your iheadbones into the amplifier port marked HEADSET.
Slide the amplifier switch to ON, turn on your audio device, and enjoy! iheadbones will use its conduction technology, delivering sound to whomever – or whatever solid surface – it comes in contact with.
For best results, press the iheadbones to the bones of your head, either in front of or behind your ears near your frontal lobes – which are approximately at the level of, or just above your eyes. Try different positions, some positions may offer better comfort or conductivity and therefore better sound.
The kit includes a headset for wearing your iheadbones. Peel the cover off the soft foam that is attached to the acoustic devices and attach the devices directly to the flat pieces on the headset, SEE ILLUSTRATION (B).
Your kit also includes three Velcro® strips for wearing your iheadbones in helmets, hats, and other applications where you prefer not to use the headset. For use with bike helmets, we suggest adhering the acoustic devices in the helmet near your frontal lobe or behind your ears (1), or attach them to the helmet straps that run behind your ears (2). Use Velcro® to attach the amplifier to the back strap of the helmet. Experiment with different places on your head to maximize your sound quality.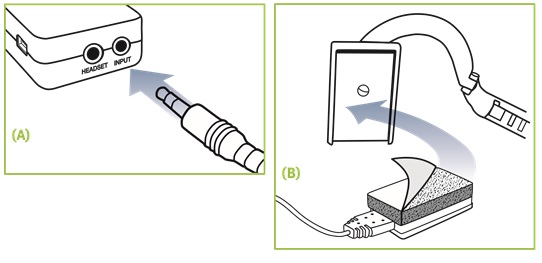 How to wear and Turn on / Turn off iheadbones Bluetooth headset ihb F3 or ihb 80
The speaker should be worn in front of the ear, high on the cheekbone NOT covering or on the ear
Turn on – Press and Hold Multifunction Button for 3 seconds. Prompt Voice will say "Power On"
Turn Off – Press and Hold Multifuntion Button for 5 seconds. Prompt Voice will say "Power Off"
How to connect to Bluetooth device
Switch the headset power ON with press of more than 3 seconds
Red and Blue LED on headset will flash quickly while connecting
Find the Bluetooth Connect screen on your device
Connect to Vidonn F3
Blue LED will flash slowly when connected and voice will announce "Connected" when the Bluetooth is connected to your device
Range for Bluetooth is 10 Meters (or 33 Feet)
If headset does not connect turn headset off and on and it will try to connect again
When not connected, the headset will turn off in 10 minutes
When turning On, if a previously connected device is found within range, it will connect automatically and voice will say "Connected"
Charging your headset
Headset is charged with USB cable and USB Power Cube enclosed
USB cable can also be connected to any USB port for charging but it may take longer
When charging Red LED will be on – when charging is complete Blue LED will come on
Full charge will take approx 2 hours
Do not use headset while charging
Using button controls
| | | |
| --- | --- | --- |
| Function | Button Control | Audible Tone |
| Power On | Power Switch – Press for 3 seconds | "Power On" |
| Power Off | Power Switch – Press for 5 seconds | "Power Off" |
| Low Battery | Red LED Blinking | "Low Battery" |
| Bluetooth Connected | Blue LED Slow Blink | "Connected" |
| Incoming Call | Press Button | Ring Tone |
| Answer Call | Press Button | Beep Tone |
| Reject Call | Press and Hold Button for 3 Seconds While Ringing | Beep Tone |
| Transfer Call to Mobile Phone | Press and Hold Call Button | Beep Tone |
| End Call | Press Button Once | Beep Tone |
| Play / Pause Music | Press Button Twice | Music Stops / Starts |
| Previous or Next Song | Press and Hold Volume + or – | Music Stops / Starts |
LED indicator
Flashing Red – low power

Solid Red – charging

Off – Fully Charged

Quick Flashing Blue – bluetooth pairing
Slow Flashing Blue – bluetooth connected
Blue Flashing Very Quickly – incoming call
ihb Product Specifications
Speaker type: Ceramic Piezo Acoustic Device (WITHOUT MAGNETS)
Amplifier Type: Class D NJU 8764
Frequency response: 20Hz ~ 12kHz
Sensitivity: 100 ± 3dB
Battery: rechargeable lithium ion
Continuous play: up to 12 hours
Standby time: up to 10 days
Charge in: 1 hour
Latex Free Silicon Rubber
Headset Weight: 1.7 oz (43g)
Warranty: one year
Speaker type: bone conduction metal can transducers
Bluetooth version: v5.0+EDR Class 2 3 with Microphone
Bluetooth IC: QCC3003 with Noise and Echo Reduction, 4dBm Transmit and -91dBm Sensitivity
Compatible profiles: HFP, HSP, AVRCP, A2DP, BLE
Frequency response: 150Hz ~ 20kHz
Wireless range: 33 ft (10m)
FCC ID: 2ACP8-NICE2
Battery: rechargeable lithium ion
Continuous play: up to 8 hours
Standby time: up to 10 days
Charge in: 1.5 hours
Latex Free Silicon Rubber
Weight: 0.92 oz (26g)
Warranty: one year